Charlottesville Country Living
Bridget Archer & Pam Dent
121 Lexington Ct.
For Sale $1,195,000
This exquisitely crafted brick residence on 13 acres is perched on a mountainside where the setting sun reflects a warm evening glow and the mountain, and vineyard views provide the perfect backdrop. As you approach, the quality of this property immediately becomes apparent. The paved driveway leads you to a commanding home set among a profusion of flowers.
View Property & Brochure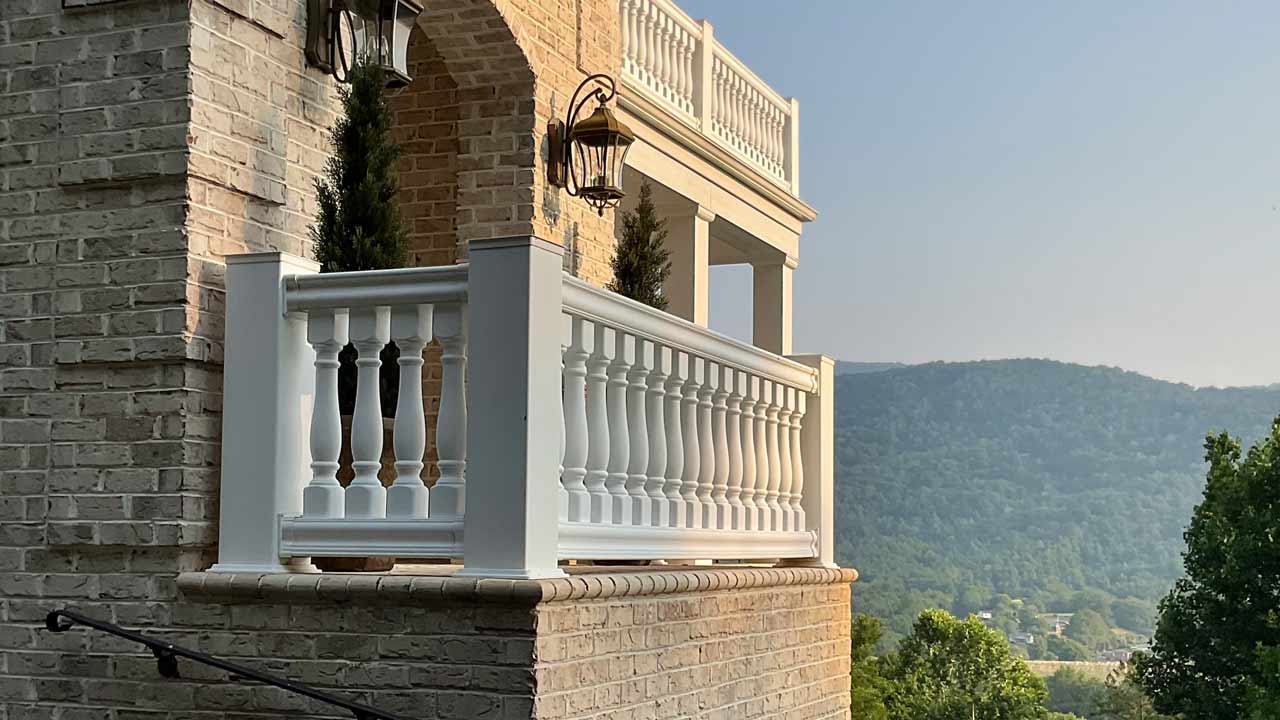 South Keswick
Sold
This well-maintained ranch home in South Keswick is on 10 acres. has two garages, remodeled kitchen with all Miele appliances, 3BR 2.5BA. There is also a workshop. The property is beautifully landscaped with a garden pond and waterfall.
View Property & Brochure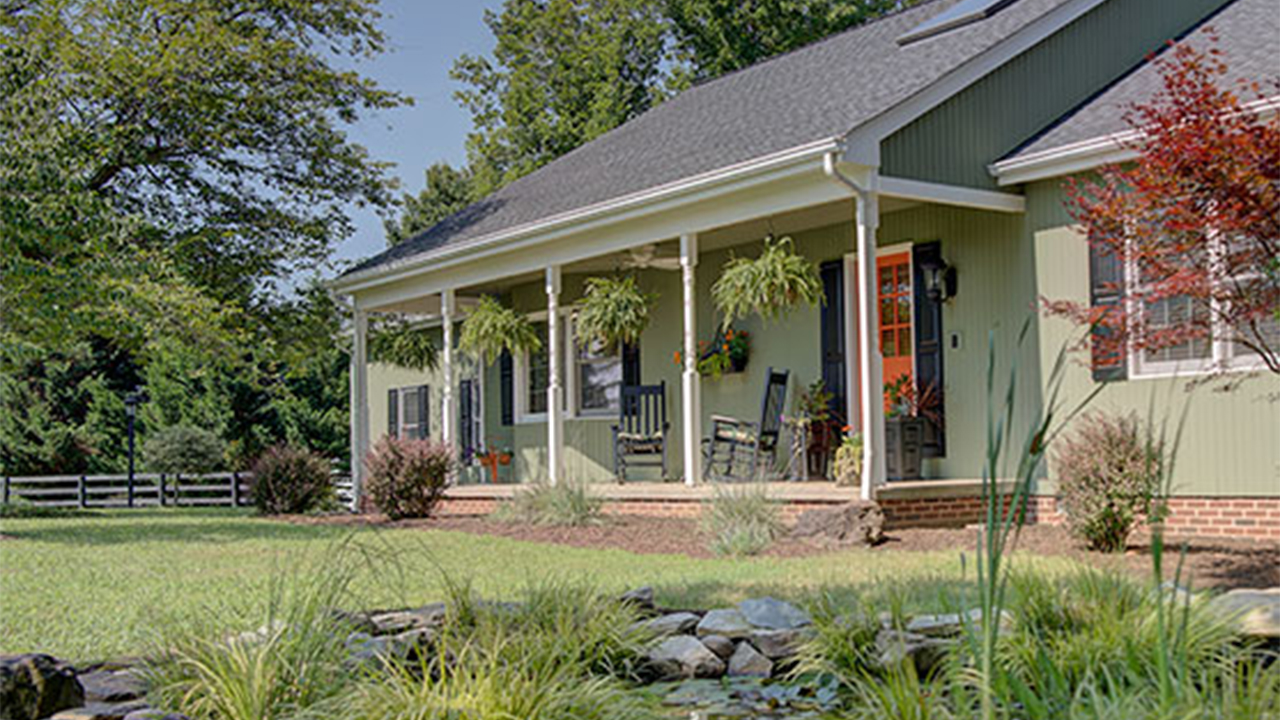 Cedar Ridge
For Sale $1,950,000
This stunning Lindal home on 87 acres offers breathtaking mountain views. Indulge in the tranquility of nature with your own private five-acre stocked pond and explore the scenic walking and riding trails. Additionally, there is a charming two-bedroom guest cottage.
View Property & Brochure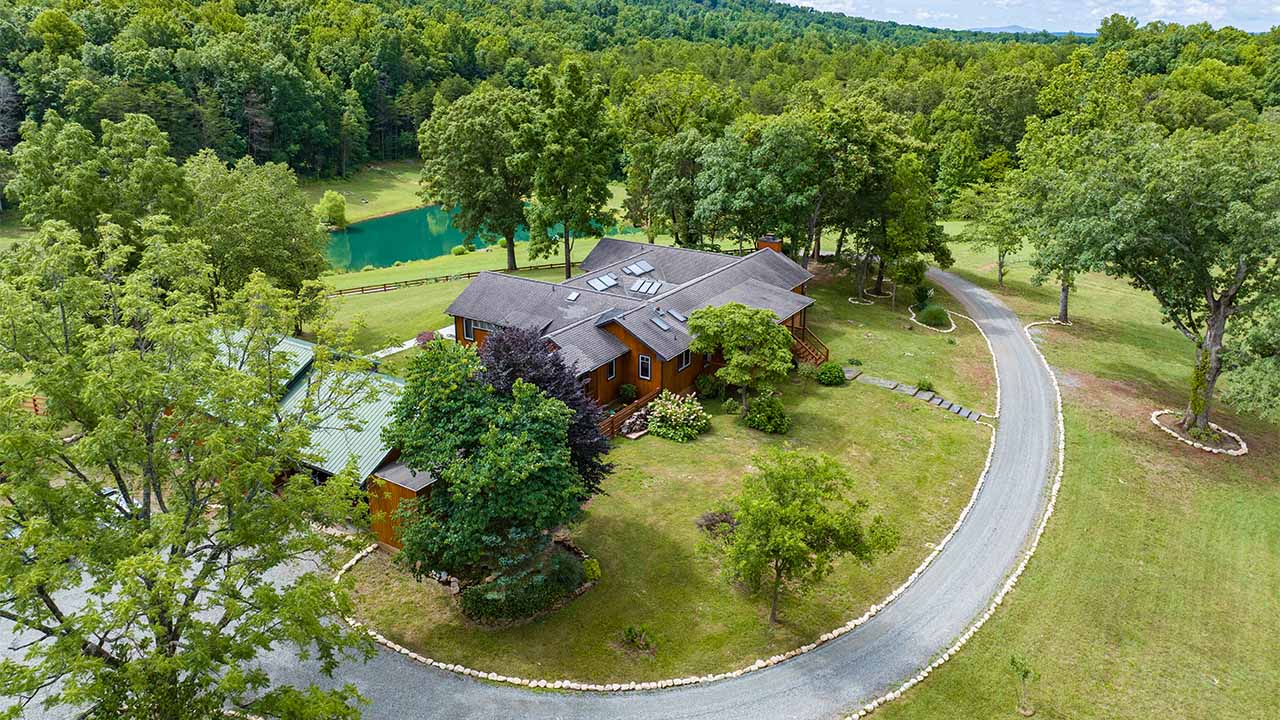 Four Seasons Retreat
Sold
The sun shines on the Rockfish River, glinting off the water as it winds through the mountains and a light breeze blows through the trees. You can hear a waterfall in the distance. This a property with easy river access for kayaking and fishing and stunning views. Rental income as Airbnb.
View Property & Brochure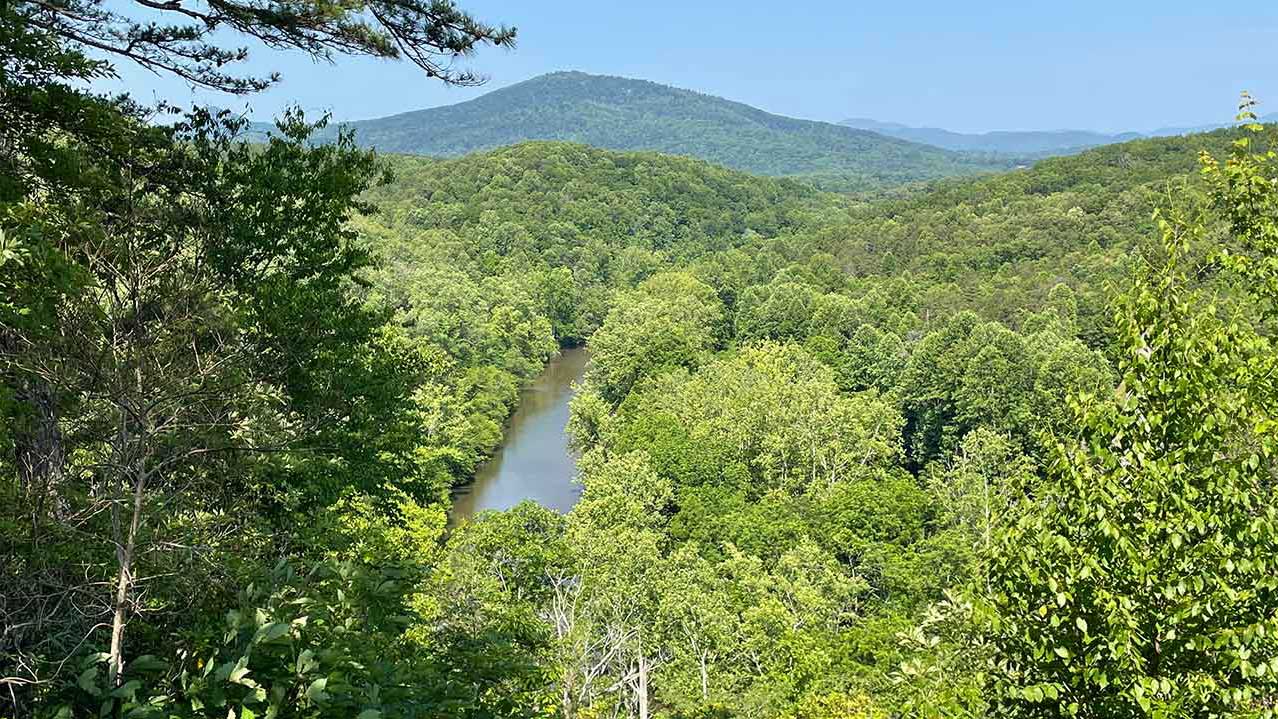 Turkey Hollow Farm
On Hold
As you approach the entrance, prepare to be spellbound by the stunning beauty of the surroundings on 25.07 acres. The property has magnificent trees and lush flora, teeming with wildlife. Quintessentially country, it comes complete with a 2-stall barn, a heated pool, a pond, a large chicken coop, and more. Stepping inside the main house reveals cozy living. Nestled on the property is a charming log cottage, perfect for Airbnb visitors.
View Brochure
View Property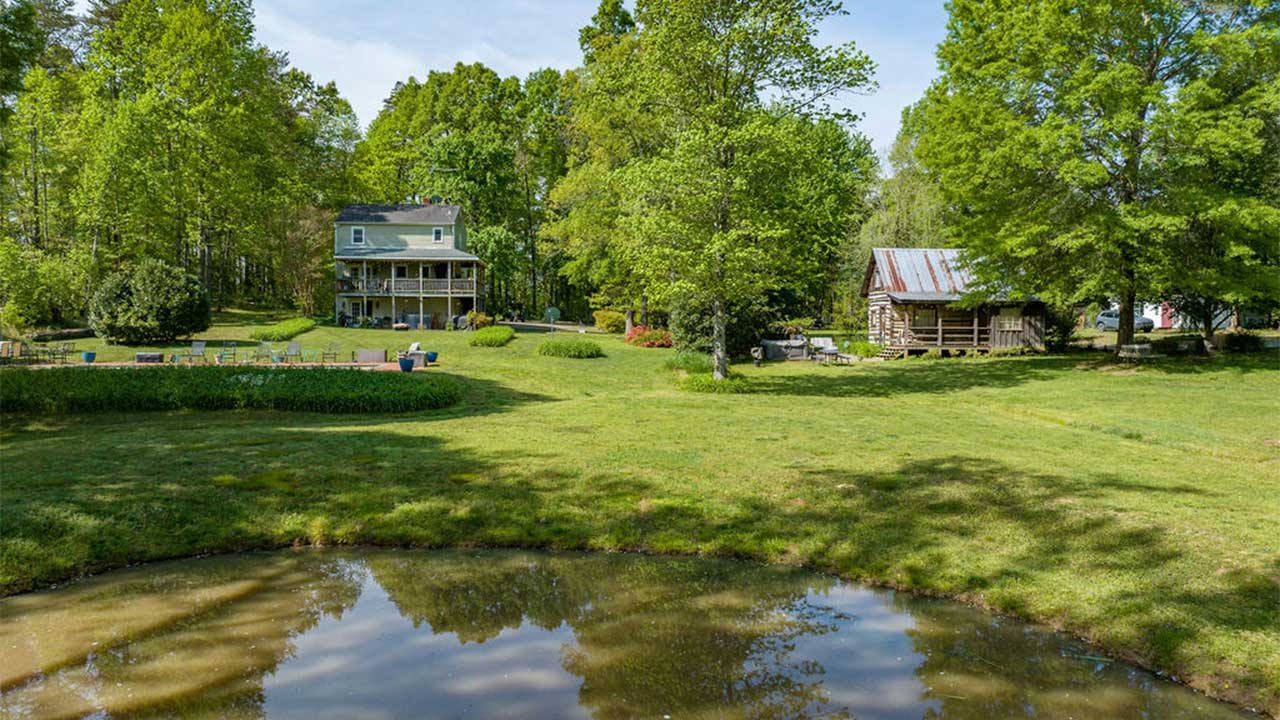 Songbird Hill
Sold
Situated on 12 acres of hardwood forest, this contemporary 3-bedroom home built in 2007 is an artist, naturalist, or writer retreat dream. Thoughtfully designed to bring the outdoors in, it is perfect for someone who appreciates privacy and nature. The landscaping around the home is primarily indigenous and mature, requiring very little maintenance. The approach to the home is along a driveway through the woods to an elevated homesite. The terrain includes rock faces and springs that flank the private setting. The natural beauty and peaceful surroundings will intrigue you.
View Brochure
View Property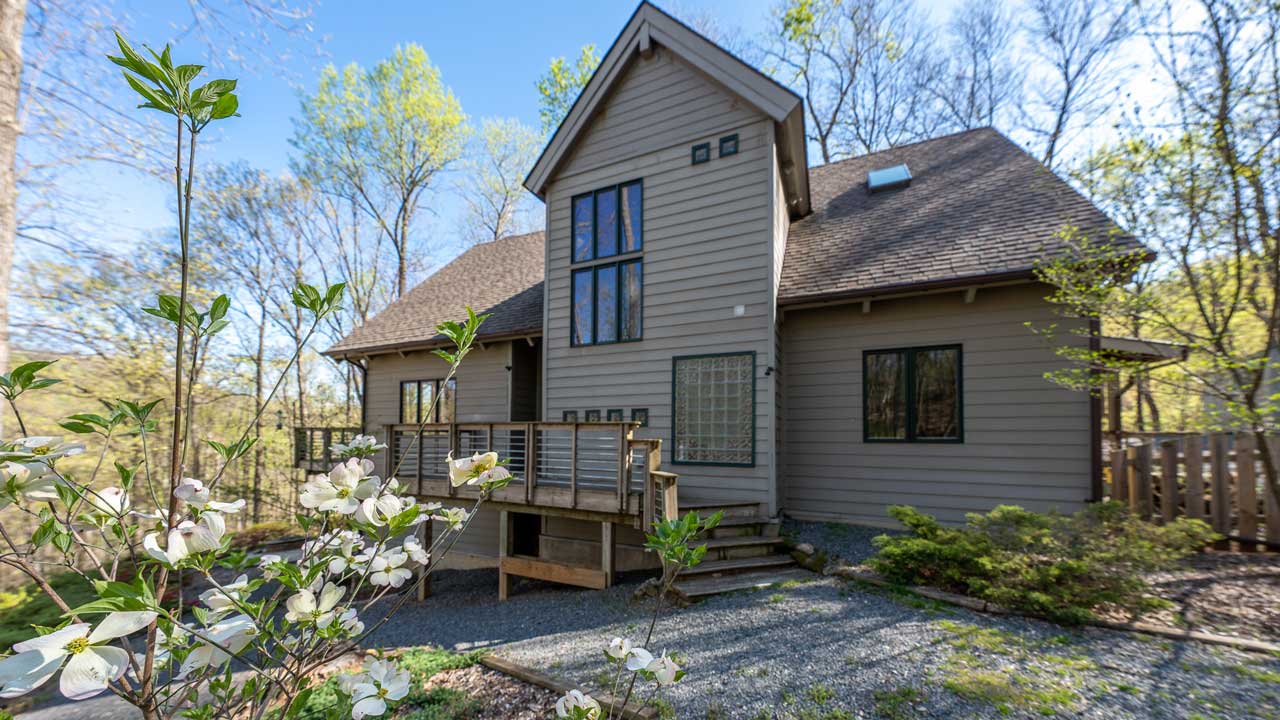 56 Crab Orchard Lane
Perched at the edge of the George Washington National Forest in Wintergreen Resort, this gorgeous post-and-beam home overlooks the Shenandoah Valley and Alleghany Mountains and offers a vibrant and versatile lifestyle. The discriminating buyer will appreciate this Wintergreen mountain retreat's thoughtful design and refined touches. Rich wood floors, vaulted ceilings, and dramatic views make this home stand out.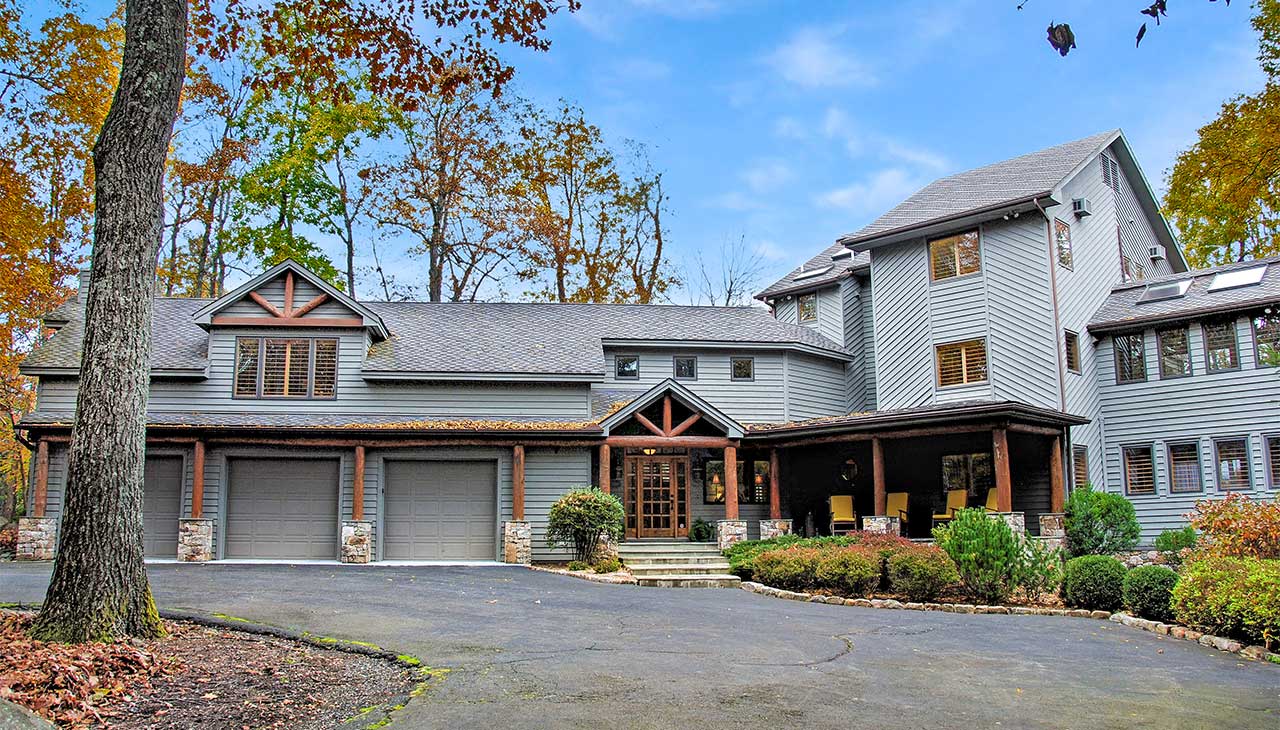 c.1925 Woodbound Farm
Sold
This beautiful farm located in Keswick on 32.19 acres is a total delight. There is something very special about the idyllic cottage and grounds; perhaps it is the character and grace of the house against the setting of mountain and pasture views. The inside is as stunning as the gardens surrounding the home. The main renovated house is c.1925; the property has a pool, two horse barns, and three picturesque rental cottages. Every inch of the property has been loved and carefully maintained.
View Brochure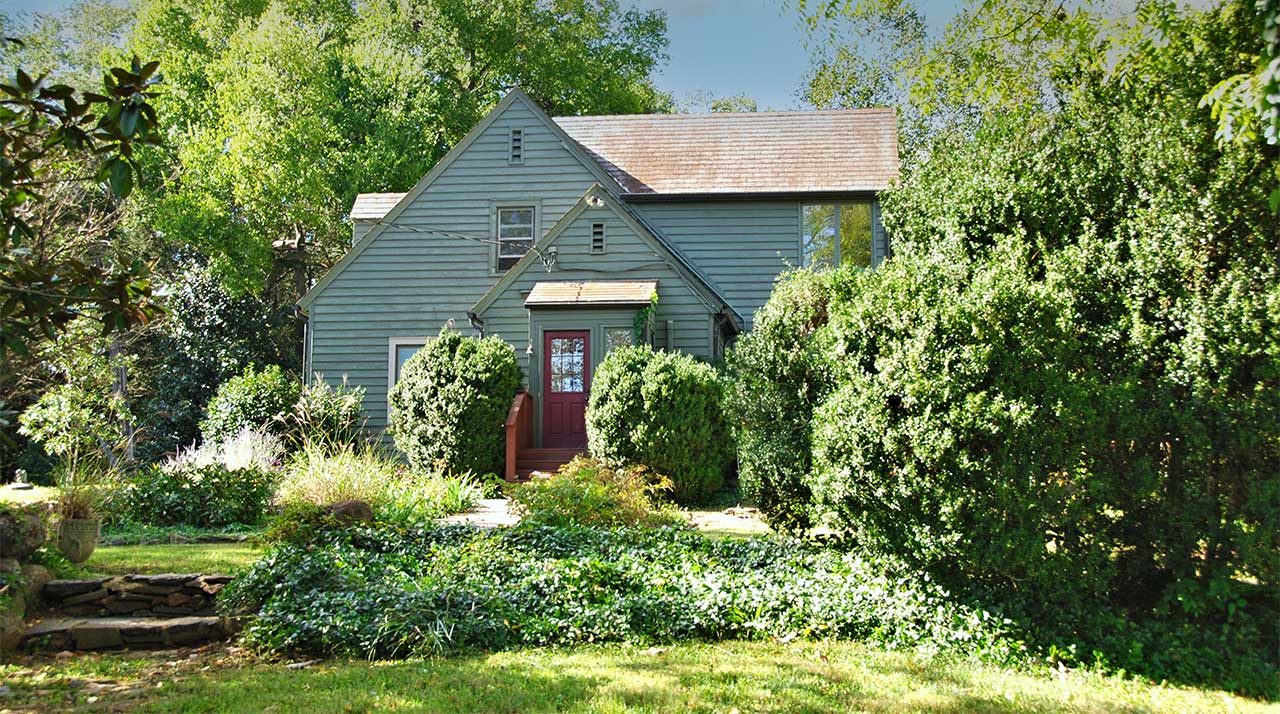 c.1840 LOVELL

LLocated in the Virginia Piedmont region, just east of the Blue Ridge Mountains, where you find a commitment to land preservation, rests Lovell c.1840 on 165 +/- acres of rolling farmland bordered by the Robinson River. Surrounded on three sides by properties under conservation easement, Lovell enjoys the romance of timeless beauty and the tradition of the Virginia hunt country.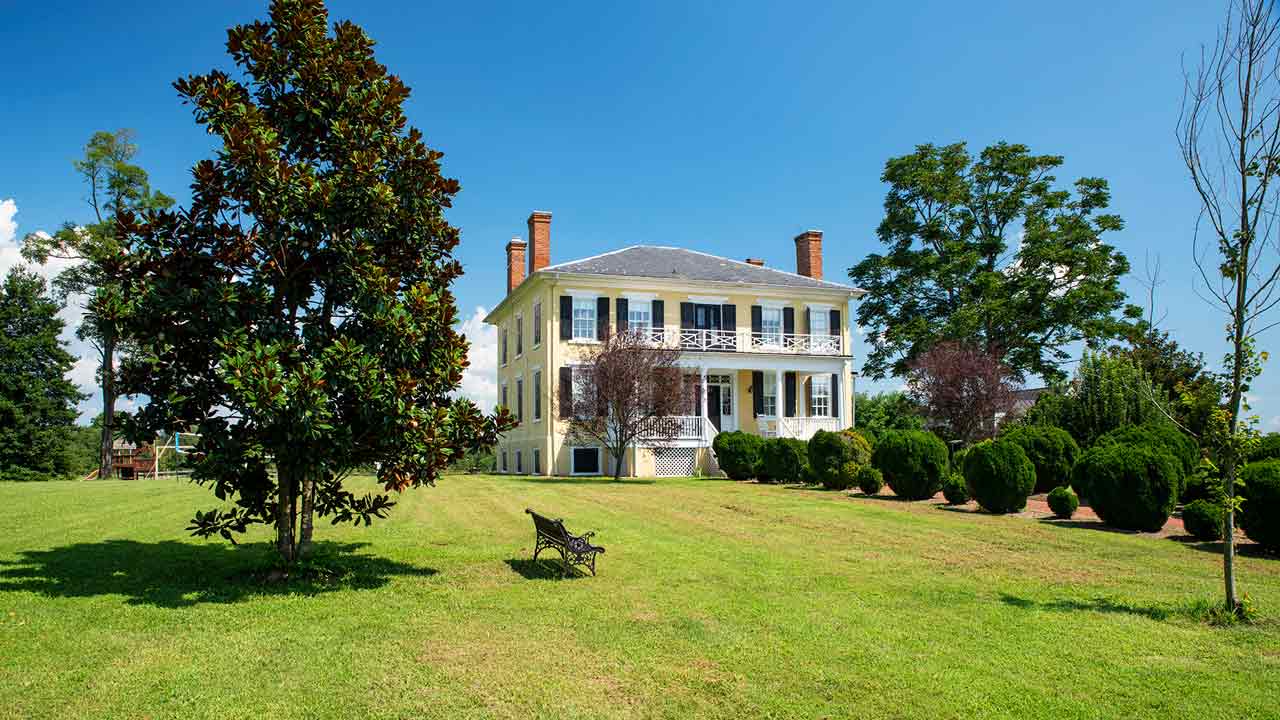 c.1840 Mill Hill Farm
Sold
Located in the southwestern end of the Rockfish Valley in Nelson County, Mill Hill Farm sits on a grassy rise along the South Fork of the Rockfish River. The land is gently rolling, and the scenery is breathtaking. You feel the historic charm of this property the moment the farm comes into view.
View Property
View Brochure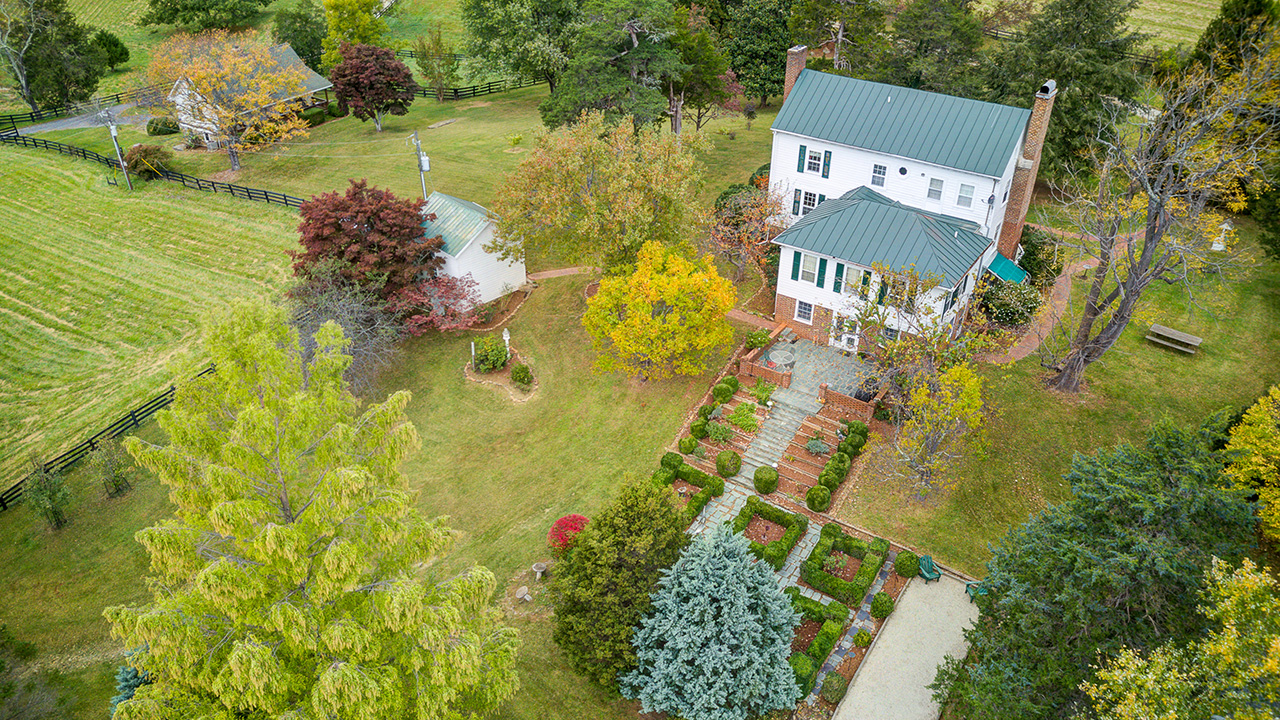 Amazing Grace
Sold
Tucked into a landscape of wineries, breweries, and spectacular views, sits a custom-built home on 16.78 acres in Nellysford. The scenic driveway begins at the South Fork Rockfish River, passing by the stocked pond and award-winning vineyard to a home overlooking the valley with panoramic mountain views.
View Brochure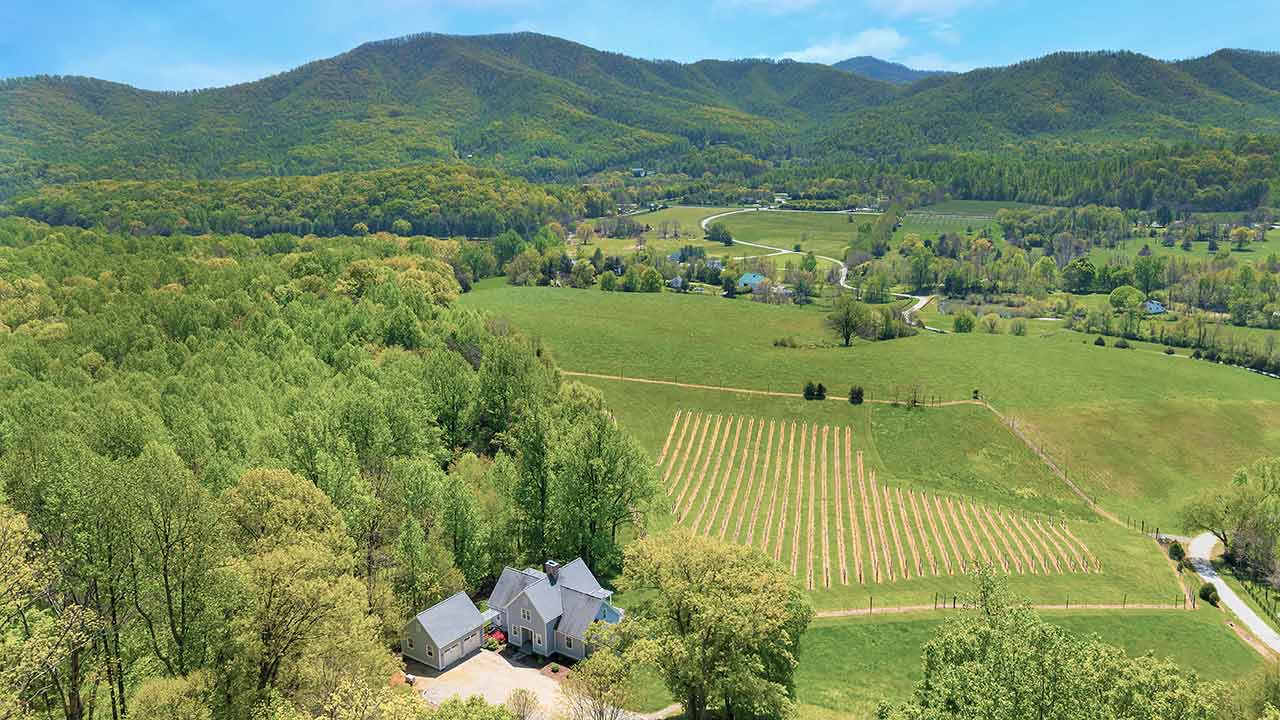 Bentivar
Sold
Tucked away minutes from Charlottesville and meticulously maintained, this gracious SMART home with extensive renovations offers distinctive details throughout the house. Large windows give the feel of a private sanctuary with views of the beautiful landscaping throughout.
View Property
View Brochure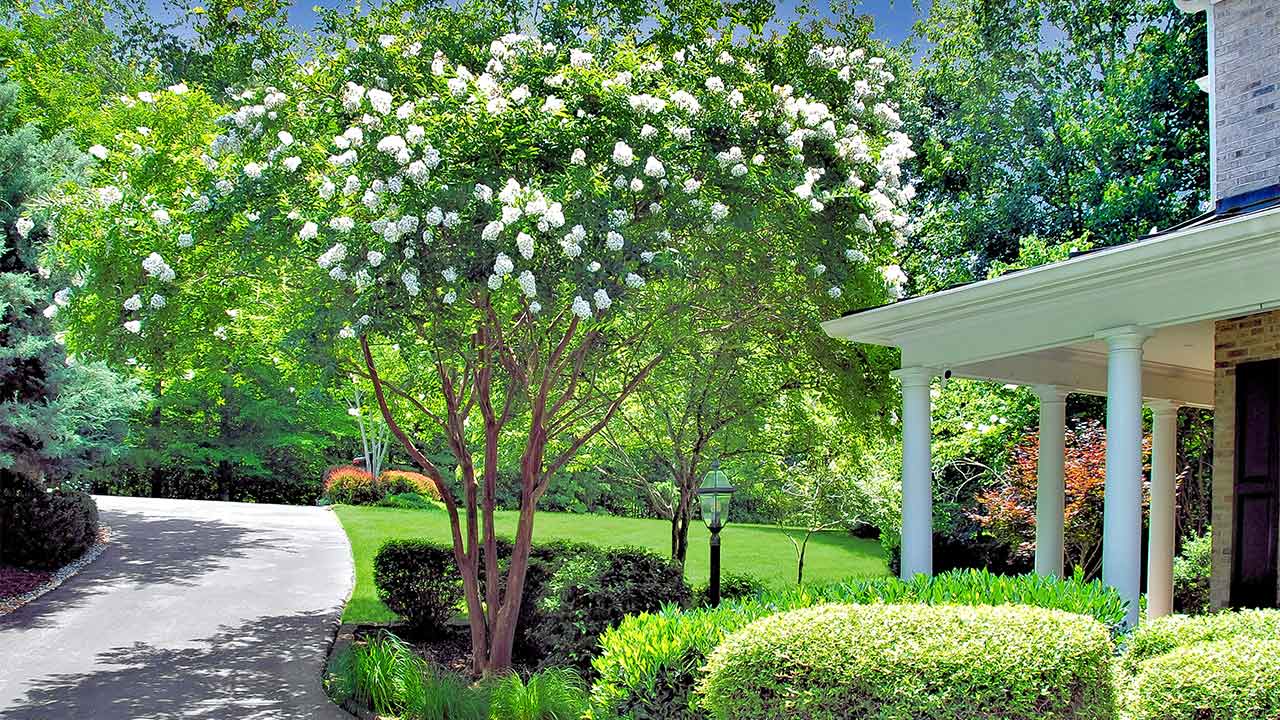 c.1825 ELDON
Sold
A heart rarely feels compelled to write a love letter to a house. Eldon is not ordinary. She is different. History deepened the soul of this house and inspired a poetic love letter that is part of its historical past. The approach along the tree-lined drive leads to the majestic beauty of Eldon. Your eyes meet the stunning 18-room, three-story white frame house when it comes into view. Five south-facing gabled dormer windows and four tall white Tuscan pillars stand guard with wide porches on three sides of the house. It is an impressive sight.
View Property
View Brochure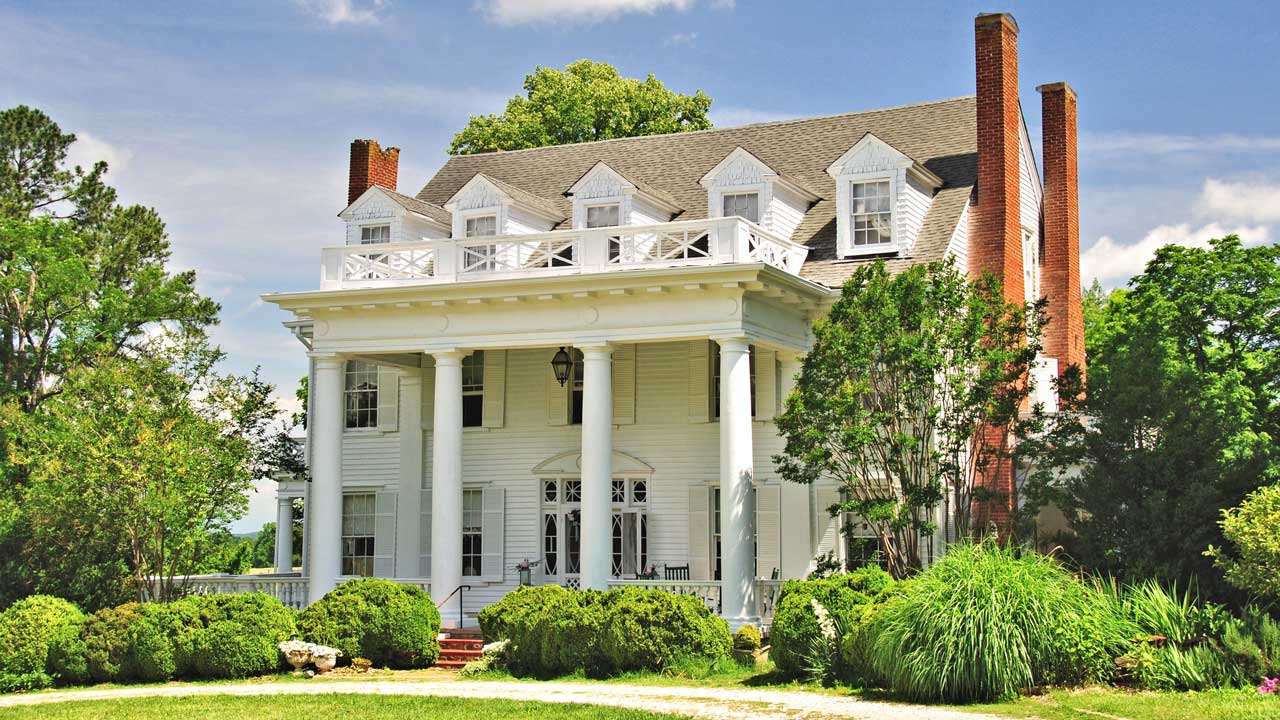 Little Bit Farm
Located on 44 private acres in Madison County, VA, this exquisite and meticulous horse farm in the heart of Brightwood's rolling land with views and a spring-fed pond offers functionality and charm. The farm includes a stallion barn, pony barn, isolation stalls, an indoor arena, a hay barn, run-in sheds, and a spring-fed pond.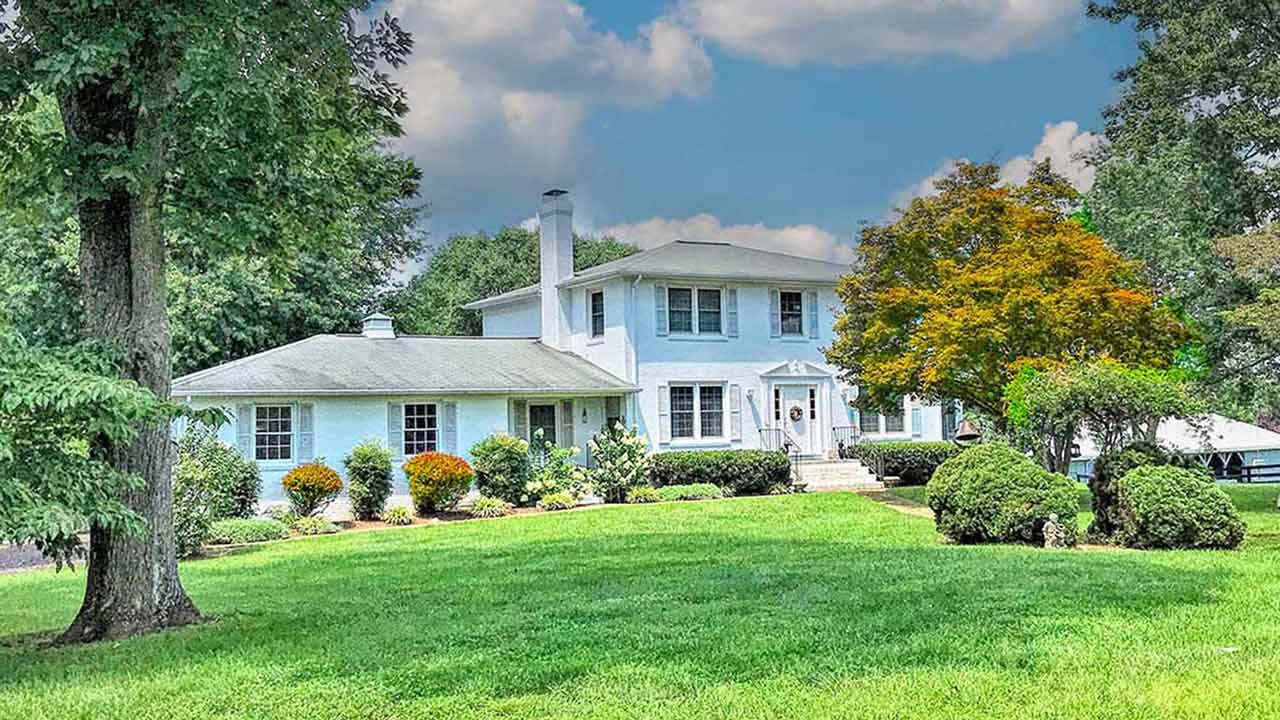 Bayridge Farm
Sold
This home is nestled into a rise on a charming scenic road, with views of rolling land and a winding stream. The property is designed as a horse farm on 12.2 acres, with 10.41 acres in Albemarle and 1.79 acres in Fluvanna County. The horse facilities include a four-stall center aisle barn with hay storage, a wash stall, and a heated tack room. In addition, there is a second three-stall row barn, five paddocks, two run-in sheds, and a pond.
View Property
View Brochure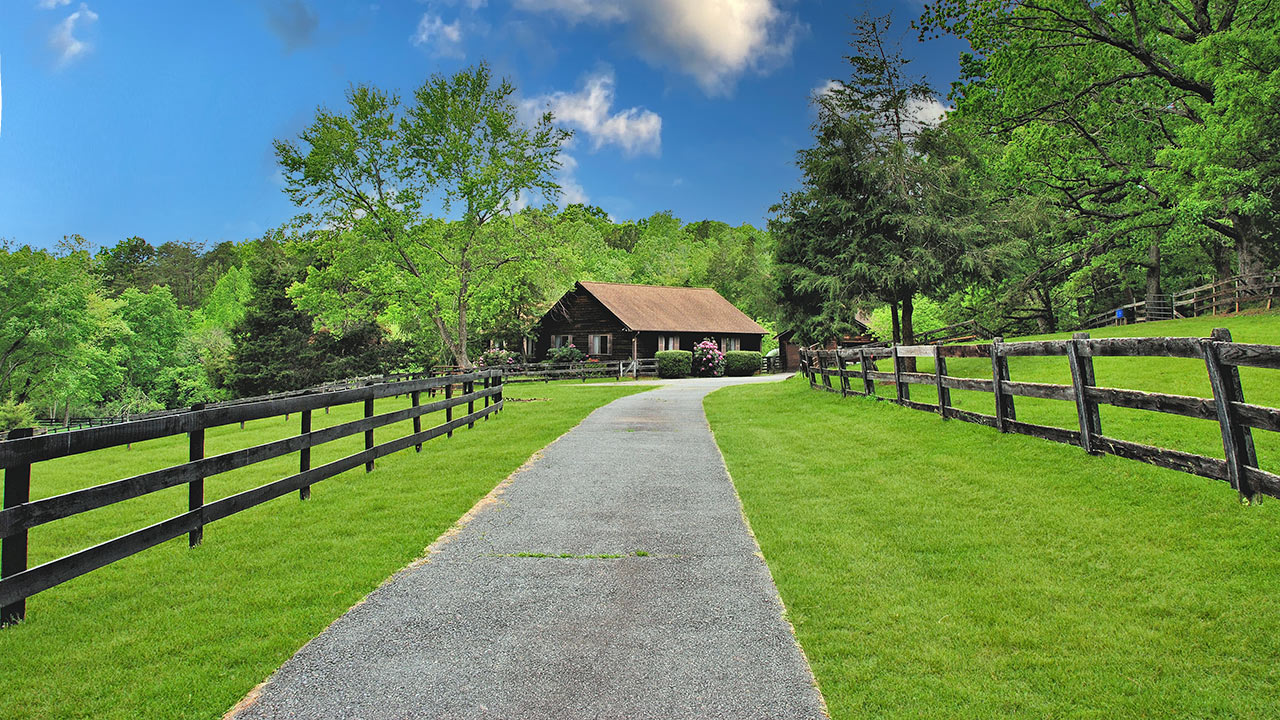 Cedar Run Ranch

This equine training center has everything you need on 67.50 acres in Cumberland, Virginia. The farm enjoys green pastures, streams, miles of reading trails, and rolling land. It was built as a training center with a 100'x200 heated indoor arena and sprinkler system.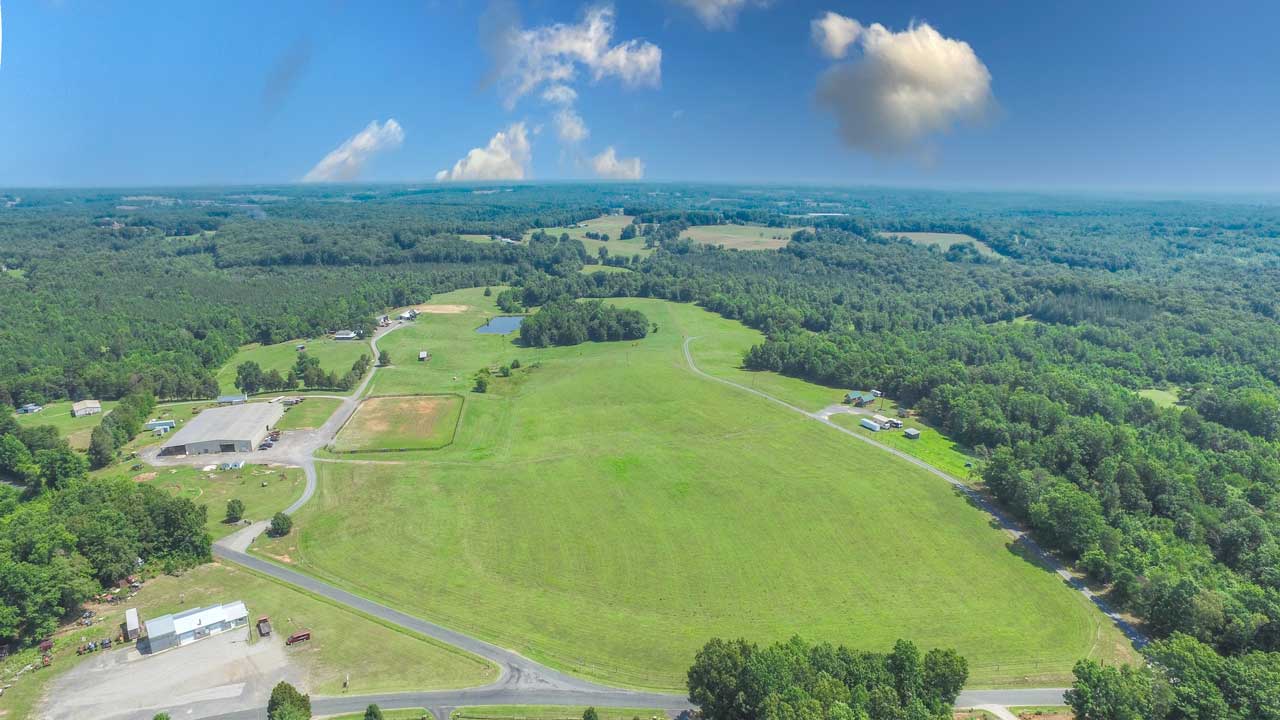 Celestial Farm
Sold
This well-designed home on 39.68 acres in the quiet countryside of Schuyler offers an idyllic homestead sited on a knoll overlooking rolling land, a barn, and a cottage. Beyond the barn lies a large picturesque pond that invites fishing and reflection. Stars light the night sky for stargazing.
View Property
View Brochure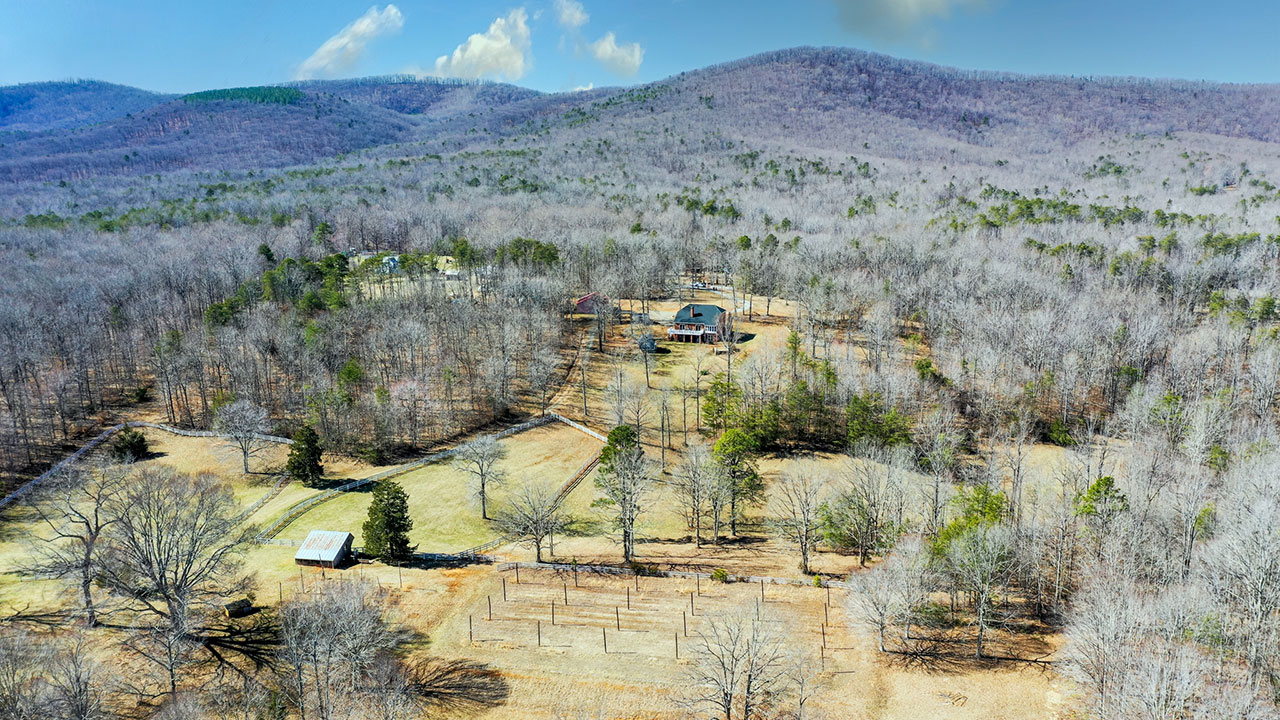 Hidden Creek
Sold
Hidden Creek, located in Crimora, among wildlife and the Blue Ridge Mountains, is the perfect year-round home or weekend retreat property. Tucked back from the road, this fabulous custom-built log home on 3.8 acres offers privacy and convenience. With extensive landscaping and flagstone walkways, it is a home of quality and attention to detail. The floorplan is open and inviting, with pinewood floors throughout the house.
View Property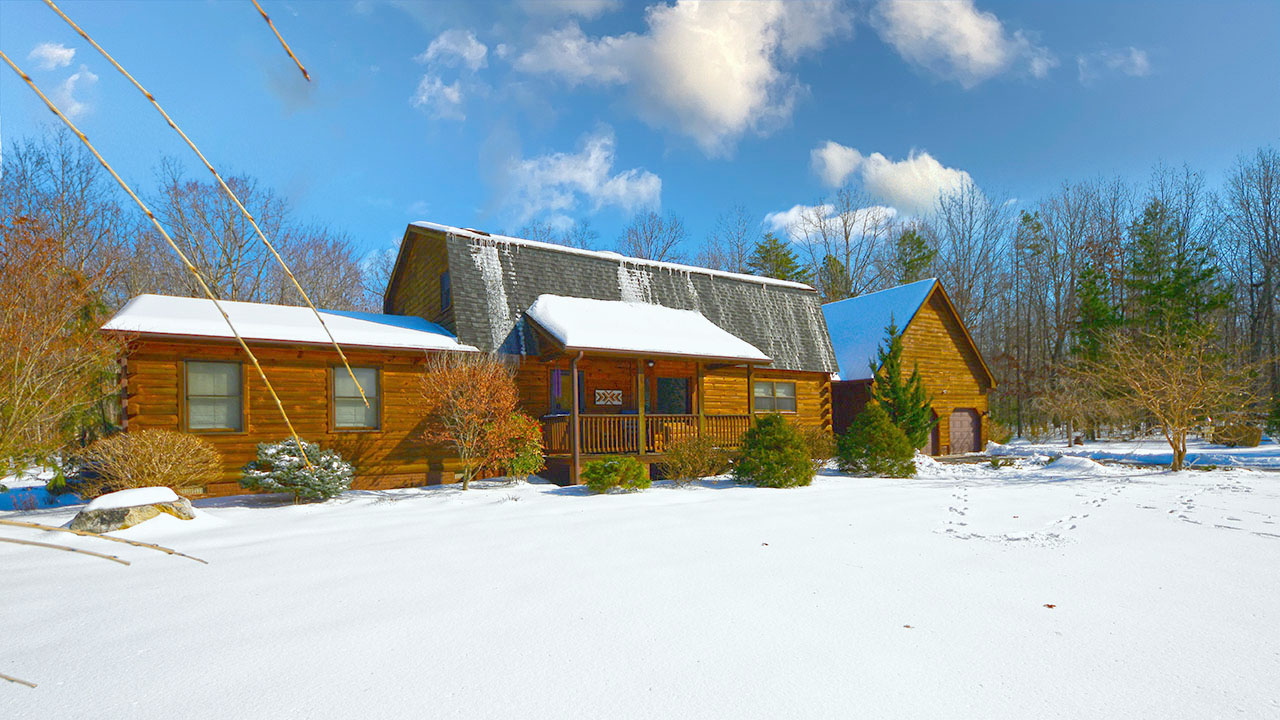 Gaited Meadows Farm
Sold
Gaited Meadows is a 21-acre horse farm gently tucked into the Fluvanna countryside. The tree-lined driveway will capture your interest and lead you on a gravel driveway along the pasture to the house. As the house comes into view, you can glimpse the barn and back pasture through the trees. The farm's layout is thoughtful and practical, with privacy and functionality in mind.
View Farm Details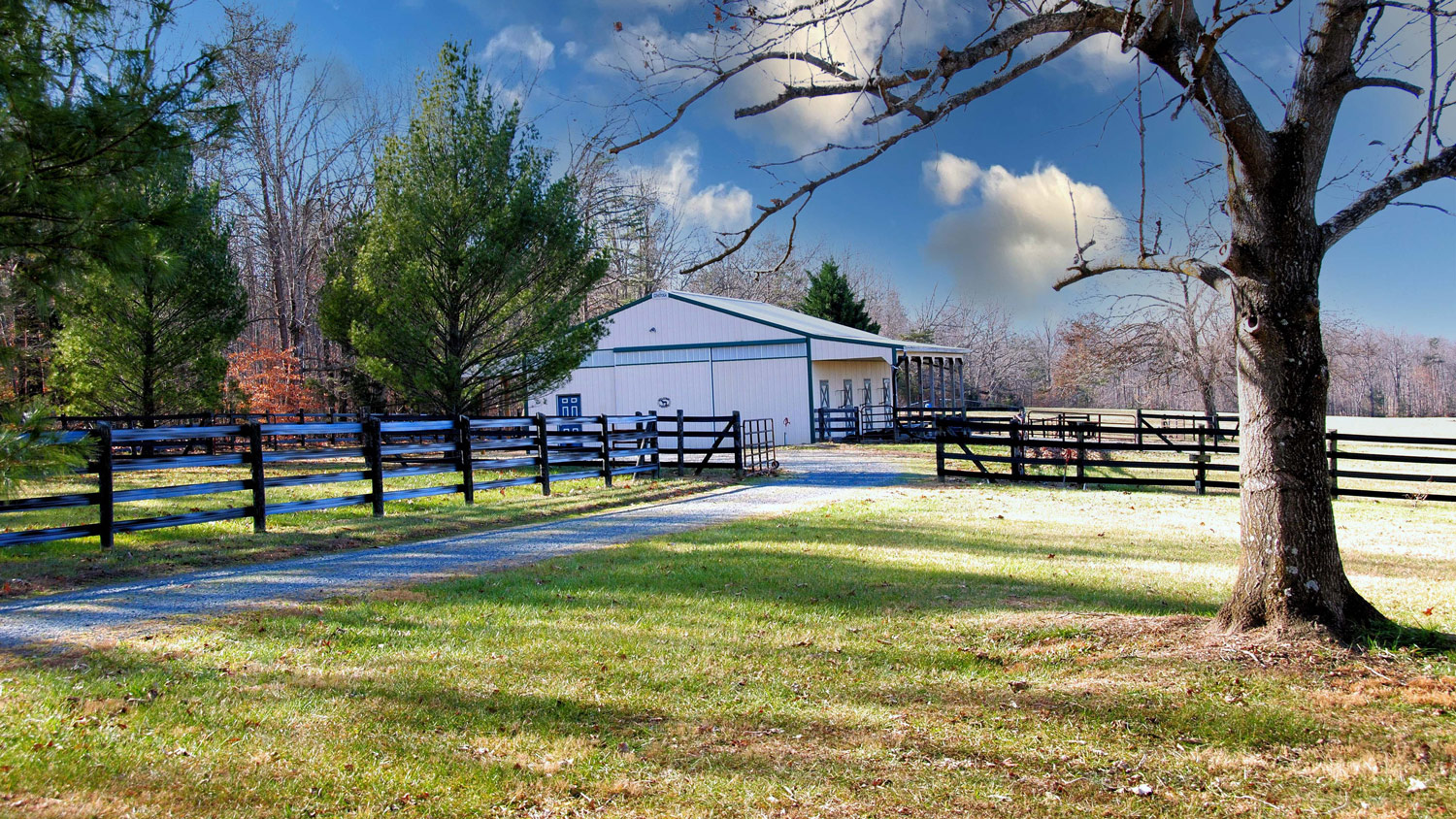 Cedar Glen
Sold
Legend has it that George Washington once stayed at Cedar Glen while on a surveying trip to Bedford County. As you stand in front of the circa 1760 home, time stands still. It is easy to imagine horse and rider galloping through the 124.9 acres of rolling farmland in need of an overnight stay.
Brochure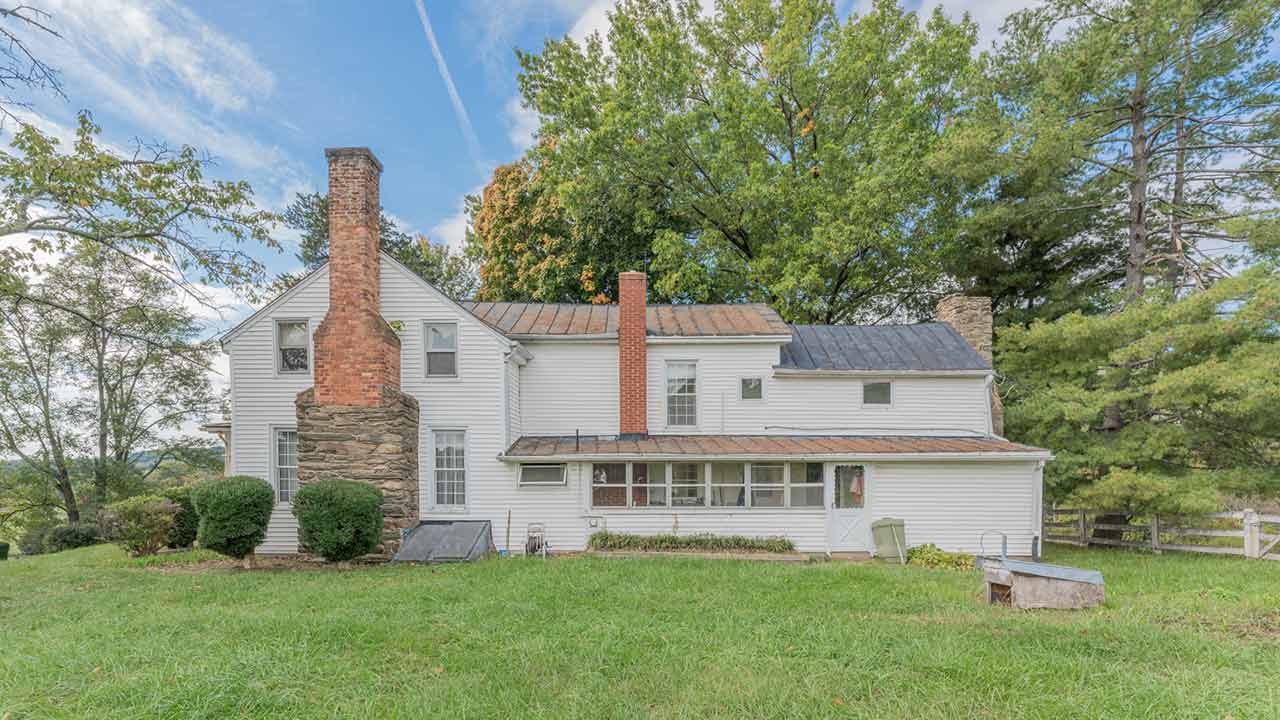 Kingston Farm
Sold
The Barnmaster center-aisle barn has eight 12 x 12 matted stalls with sliding windows and feed doors, a hot and cold wash bay, and a tack room with a bathroom. Turn out is easy with seven paddocks and four run-in sheds. Second access gates run through the middle of the paddocks. Water and electricity run to each paddock. An old arena with a bluestone base and arena light sit at the rear of the property. There is a two bedroom farmhouse that is charming.
View Brochure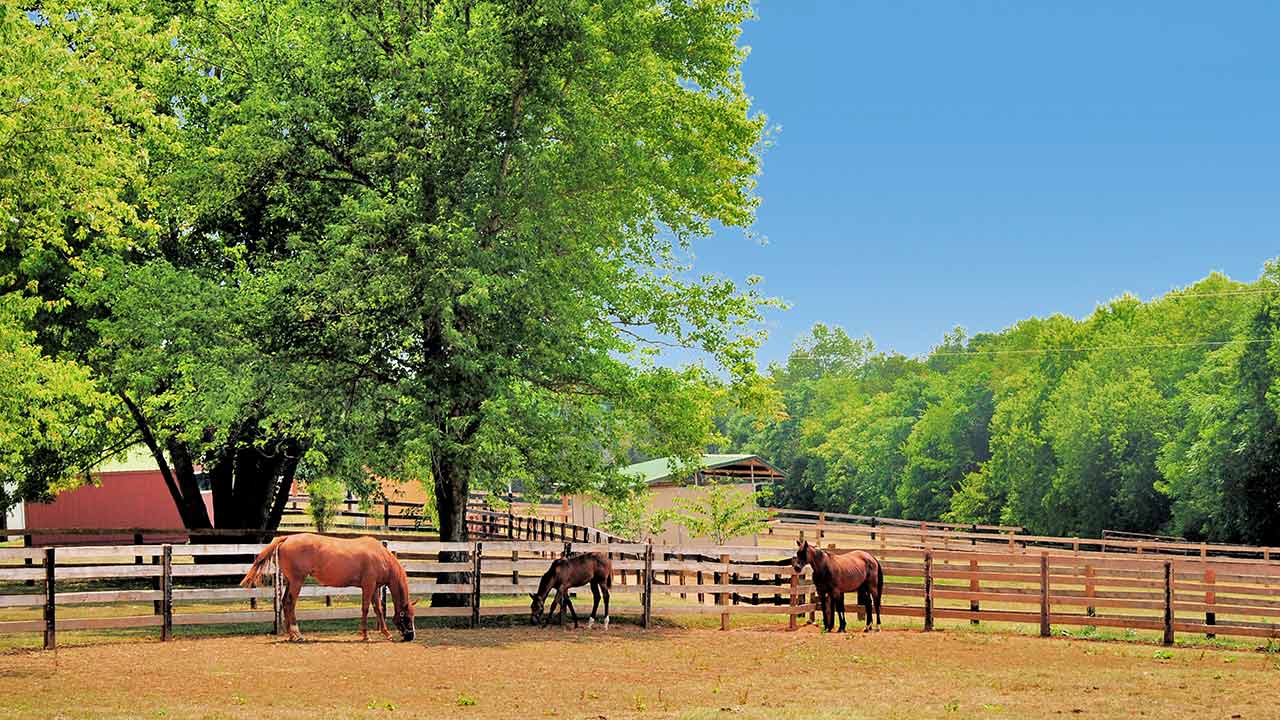 Palmyra Hill Farm
Sold
Palmyra Hill offers 17 acres with privacy, a stocked pond, fenced pastures, barns, and beautiful views. Freshly painted and remodeled, the home is move-in ready and offers one-level living. This sustainable farmette is perfect for vegetable gardens and animals and offers peaceful, easy living.